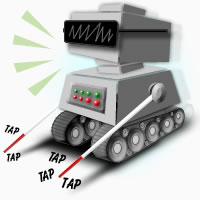 If you told someone they could lose weight if they quit smoking, would they be in the wrong or, worse, be a bad person, to quit smoking for the sole purpose of losing weight? Let's examine: Losing excess weight is a good thing, and so is quitting smoking, right? So does their motivation leave something to be desired? I strongly suspect most of you wouldn't care one way or the other. The net result will be the same, the benefits will be realized regardless of their reasoning, and nobody will be hurt by their choice. It's seems that the motivation is actually sort of irrelevant.
Now let's substitute weight loss with search engine optimization (SEO), and quitting smoking with web accessibility. Tell another someone they can enjoy several SEO benefits by ensuring their web site is accessible. In turn, they act on this information by making their site more accessible, but they do it so they will be have a better optimized site. I'll ask the same question again: Are they wrong or, worse, a bad person, if they are motivated by the promise of better indexing instead of embracing web accessibility for its access-to-all merits? I suspect someone may object to this notion. I understand. There may be injury or dilution to the focus of accessibility, and this may or may not be a reasonable price for widespread adoption. This subject demands closer inspection.
You can't fake proper optimization, and you cannot fake accessibility, but not everything required to make a site really accessible is needed to gain all of the search benefits. (An example of this would be highly machine-accessible but hard-to-read low-contrast text.) Thus, there is a catch for developers taking this route: they need to have an actual understanding of both disciplines to do it right. And there's a catch for web accessibility in general: the level of accessibility might not be its highest since the choice to follow through in all areas is dependent upon free will.
The net result in any case is the someone in question gets a site that's more apt to be properly indexed, and also happens to offer a higher level of accessibility, but it may not cover all the bases, and it could taint or somehow dilute the very essence and meaning of web accessibility I suppose. So, is it a step in the right direction for the internet — regardless of motivation?
Accessibility Meets Googlability
The term "Googlability" has been around for a bit and it means the ability of a site to be indexed by search engine spiders, not just Google. And "Accessibility" is something we all know and love. It, of course, is about ensuring equal access to the web, barr no one. The more the merrier, right? Combine the two — or realize that in many ways they're one-and-the-same — and then you're onto something special. I'm calling it Accessigooglability, though Search Engine Accessibility (SEA) also fits the bill. In either case it's a heavenly marriage that, metaphorically-speaking, bears lovely children known to rocket to the top of their class by opening doors instead of slamming them shut.
This fact hasn't gone unnoticed by savvier web developers. Lately I've seen a greater number of accessible sites, or those at least meeting some of the requirements. It doesn't mean that web accessibility is going mainstream — hardly, that's still in the works — but I do see a wider adoption of some of those so-called best practices. It'd be nice if accessibility's ever broadening appeal was due to site owners simply being considerate enough to act on their social and moral obligations, but that's not always the case. Sometimes things have to appeal to a person's baser instincts. In other words, sometimes there has to have a business case attached.
Mad Skillz Optional
Those who encourage the adoption of web accessibility know that to properly make sites accessible, it takes a particular know-how, an understanding of markup usage, various user agents, and the needs of a range of users. The fact that the search engines fall squarely into the "wide range of users" category is a happy coincidence. You learn one skill set but benefit twice. And it's not terribly difficult to learn enough to make a big impact. In fact, all that's really needed to start is knowing how to step back and see a web page in its native, unstyled form. To see the source order, the headings, the lists, and all those other elements we use to make a web page. Let's take a quick look at a few practices (to everyone's benefit):
Don't Use Layout Tables
Tables can make content difficult to access for both people and machines. Some sites can look accessible, but they may have content scattered all over the place. This is often the case for sites laid out in tables. Just look at one with styles off then at one laid out with a style sheet.
Use a Proper Title
The title element is one of the most powerful SEO tools. It's the first thing indexed and becomes the linked heading on a search results page. If it's done right this can be beneficial. To people as well, and for the same reason. It's the first thing read.
Use Good Headings
Headings carry a lot of weight, and they also serve a navigational purpose to screen reader users in that they're available at the top of the document. Offering headings that offer meaningful content can serve the purpose of communicating page content to all manner of users. But they have to be fairly explicit and properly ordered to be useful to all.
Links with Meaning
Try to avoid "click here" link phrases and other ambiguous text. Try to be clear and know that a link may be seen out of context. The link should offer information or direction. It should either state its purpose or its destination. Anything less may limit the link's potential.
Look at your Source Order
My understanding is that most screen reader users are accustomed to a navigation-first ordering, but aren't too bothered if the opposite is the case as long as jump links are provided and the page is organized. I believe that a content-first approach is beneficial to indexing. In either case, the important thing is that the page is smooth-reading, linear, and organized semantically with the proper elements used for their intended purposes.
Do Images Right
If an image conveys actual text content and that text doesn't appear with its context, then you need to enter that text in the image's alt attribute. If the image is a link you must use alt text that states its purpose or its destination as a minimum. If the image is merely supporting, decorative, and something dumb like a spacer, the alt attribute should be left empty. Remember, while it may be tempting to stuff the thing with keyword laden text, it'll more than likely be read outside of the natural flow and that helps no one. In fact it may be confusing. Also make sure images aren't needed in any way to properly use your site. If you use an image replacement method, for example, avoid one that uses a large negative indent.
An SEA Site Map
A site map is beneficial to humans and indexing spiders. It also validates what I mentioned about link phrases. Link clarity + site map = easy indexing. This is a must-have on many levels.
The Other Stuff
If developers can follow through in the other areas it'll be a good thing. Doing things like making proper web forms, ensuring text is re-sizable in Internet Explorer by using ems or percent instead of points or pixels, ensuring adequate contrast, ensure all enhancements are progressive, and more, will all be positive. This is left to free will, though.
The Right Direction?
I'm not going to take a position against those who embrace Accessigooglability because I sense a general improvement. Instead of fighting it, I'll take a more positive approach and simply trying to teach the right way and offer encouragement to take things little further by addressing those items not directly connected to better search engine indexing. I realize not all will be swayed. And in the worst case I could even be opening a door to encourage abuse, but I'm going to hope that the information is used in the best interest of all site users, not just robots.
These posts may be related: