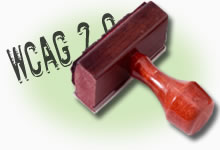 Over the past month I made mention — twice — of a site I was creating that was specifically meant to serve as a practical example of what an accessible web site is supposed to be like and serve the needs of its owner. Since I don't create anything but accessible sites as a rule, this project wasn't really that different than any other project. Initially that was. At first it was a typical Web Content Accessibility Guidelines, WCAG 1.0 build, with a focus on meeting all of the priority 2 checkpoints, "AA," but once word got out, the owner and some of those behind the WCAG 2.0 requested that I take it further.
I was asked to make the site officially conform to the WCAG 2.0 so it could be featured by the World Wide Web Consortium (W3C) as an exemplary implementation site conforming of the soon-to-be-finalized guidelines. I didn't object; this would be great for my client, and it wouldn't exactly hurt me either. Aside from the conformance protocols to be followed, it wasn't much different than what existed up to that point. I just had a lot of reading to do to make sure nothing was missed and that I could write the optional claim according to the requirements.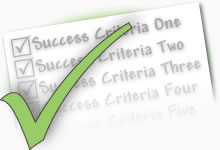 Instead of meeting checkpoints I had "success criteria" to contend with, but accessibility is accessibility and the needs of users remain the same. I changed very little on the site (though I did make sure I applied extra polish). The biggest difference between the WCAG 1.0 (or the improved WCAG 1.0 Samurai Errata) and the WCAG 2.0 is how you achieve conformance. All have their limitations, none can guarantee accessibility to all users (regardless of conformance level), and all require the web developer to have a deeper understanding of web accessibility to really get in there and do it. It's more than just meeting checkpoints.
That said, to the best of my knowledge this site meets all of the applicable success criteria required to bring it up to the "AAA" level — without having to fall back on any of the alternate themes. It isn't stated as such on the site, though. It was decided to wait on this particular part of the claim until such a time, as determined by all investigating parties (you included), that the content still being added doesn't break the any page's conformance. This is your chance to comment on things you might find or have questions about (I can think of two things that might inspire a "find"). Your comments, in fact, will be welcome and read by some of the powers-that-be.
Okay, enough said, without further ado I would like to present the web site of The Law Office of Lainey Feingold, a Disability Rights Legal Advocacy. I hope you like it.
Special Thanks Goes To…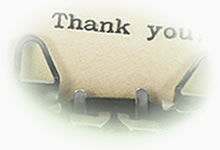 For the success of this project, special thanks goes to Jim Thatcher, Gregg Vanderheiden, Ben Caldwell, and Joshua Miele for their expert suggestions and insights, to Louis Libert for rolling up his sleeves when it came to adding content, and to Thierry Koblentz and Dave Woods for some CSS bug-tracking and screen shots, respectively.
I would also like to make mention that this site is built on the WordPress publishing platform and that with only a couple of core file modifications, it didn't impede my ability to ensure the site's accessibility. This is something the WordPress developers should be proud of. I do invite those developers to contact me should they have questions about what I found in need of attention. In addition to the platform itself, three visitor-side "plugins" were added and those creators should also be acknowledged: First there is Rich Pedley for his "Enhanced Pagination" plugin, Michael Wöhrer for his "Breadcrumb Navigation XT" plugin (modified), and me and Mike Jolley for our contact form plugin (also modified).
And last but not least, thank you, Lainey. I couldn't have done it without you.
Added Note: According to Browsercam, the right-most of the upper block links drops below the list on Firefox 3.0b3 on various platforms like Windows 2000 and Mac OS 10.4 — also, on Internet Explorer 8b1, at an 800×600 resolution, the masthead overlaps the upper block links. Should I be concerned about either at this point?
These posts may be related: