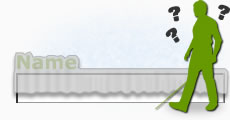 Not too long ago I wrote an article on keeping forms accessible. That was in September of '07. It's an okay article, mostly accurate and helpful. I'll stand behind its recommendations (it's not that old), but one of those recommendations, an allowance actually, is seriously flawed. I am compelled and obligated to correct this. You see, I learned that a normal form-building practice of mine — wrapping a form input with its label — can seriously impact the accessibility and usability of a web form. Like hiding an input under a blanket.
In the article I mentioned that a label/input association can be made by wrapping the input with the label. As shown in this example:

<!--Don't use this method. Example shown as HTML instead of XHTML-->
<label>Name
 <input type="text">
</label>

This is a valid method, and doing so ordinarily eliminates the need to add an id attribute to the input and a matching for attribute to the label. I also said that you can do both, as shown:

<!--Don't use this method. Example shown as HTML instead of XHTML-->
<label for="name">Name
 <input id="name" type="text">
</label>

And up until a month ago or so that's what I did. It's an overkill method, but I didn't think any harm came from it. I was wrong. Replicating the association isn't a big deal that I know of, but wrapping the input with the label can have serious consequences!
Windows Eyes Goes Blind
A friend and colleague, Jim Thatcher, consulted with me on a site that I have made for a disability civil rights law firm (they're adding content at this time so I can't show you, but see it on my Projects page soon). This site is going to be a big deal of sorts in that it must pass muster, look great, highly professional, and be accessible to the nth degree — it is to be exemplary. Jim said I nailed it, the client is happy, and I'm really digging it I must confess.
But Jim did see one problem, on the contact form: Windows Eyes wouldn't see the inputs with the labels wrapped around them. The Jaws screen reader didn't seem to mind that arrangement, as was demonstrated by Nick Fitzsimons' MP3 recording of my v2 demo form being read in forms mode (also hear virtual cursor mode), but Windows Eyes is apparently less tolerant. I can't confirm it, but Jim's knowledge of screen readers is vast, he made one, after all, so I'll take his word for it.
The site is powered by WordPress, and for a contact form it uses my form plugin (now updated). I had made several modifications to it before Jim saw it because I was aware of some of its minor issues and it had to be spot-on. The form text was too verbose for comfortable reading, for example, so I fixed that. I also addressed the fieldset groupings, consolidating them more, making a smarter arrangement. Jim liked what I did, but the label issue he found had to fixed.
It was no big deal, taking only a few minutes, and I didn't have to touch the style sheet, but I left one undone. A checkbox-type input still had the label wrapped around it so users could click on the text to check the box. A common practice. I did remove the for attribute. Unwrapping the checkbox input, I thought, decreased the ease of use for the majority user, so I was resistant to change it. I was wrong. Jim said it needed to be changed so I did. The text is still clickable — the for/id association I re-added appears to be adequate.
Limited Inputability for Safari on Mac
This is one of those really unwelcome obscurities that sometimes show up unexpectedly. For a while now I have had an occasional Mac user tell me that they couldn't input text into some of the inputs of my v2 contact form. Others would randomly report that they could enter text, but it was difficult to get the I-beam text cursor into the field, difficult to focus the input. The feedback was inconsistent, though, and for the longest time I couldn't understand what the issue was. A real head scratcher. I couldn't replicate it on any Windows browser, including Safari for Windows.
I talked to some friends with Macs, running Safari, and they didn't have a problem. A few of them use my form on their sites, all tested. This did nothing to help me solve the mystery. In fact I recall slipping into denial. Then one day a Mac user called me on the phone about some work. He told me he was on my site and trying to use my contact form but couldn't get his cursor in the required name and email inputs. He was using the Leopard operating system running the latest Safari version. I asked him if he'd be willing to lend me a hand. He was.
Bear in mind this evidence is anecdotal, but while we spoke I moved the closing label to the end of the text, unwrapping the input. I asked him to refresh and try again. No problem, but the email input was still a no-go. We chatted some more, I moved that one, too. He refreshed when I was done, and it was miraculously cured as well. Anecdotal, yes, but damning all the same.
The Right Way
Based on this evidence, it seems clear this tried and true method is best:

<!--Good method to use. Example shown as HTML instead of XHTML-->
<label for="name">Name</label>
 <input id="name" type="text">

And to expand that a bit, here's a simple form (many attributes aren't shown):

<!--Good method to use. Example shown as HTML instead of XHTML-->
<form>
 <fieldset>
  <legend>Required</legend>
   <label for="name">Name</label><br>
    <input id="name" type="text">
   <label for="email">Email</label><br>
    <input id="email" type="text">
   <label for="message">Message</label><br>
    <textarea id="message"></textarea><br>
   <input type="submit" value="Submit">
 </fieldset>
</form>
<!--NOTE: No other elements — like lists — were harmed in the making of this form-->
<!--And, yes, I think the breaks are okay to use-->

This will read pretty logically and serve all users well. For a more complex form, see my version 3. View the source, of course, and, using your browser, see it with styles off. Please note that the checkbox input on that form is still wrapped with the label. I decided to wait for comments.
Test Bed
Here are some examples for testing.
Do you note any functional differences between these? I don't.
These posts may be related: