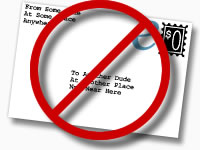 Worldwide email spam volume has grown to unprecedented proportions and something must be done. Something will be. Beginning August 1st, 2008, an action initiated by the International Consortium of Email Regulation (ICER), of Geneva, Switzerland — supported by leaders in all continents — will be effected. Precisely this action will be the application of outbound email charges levied by major telecom and cable communications carriers, billed to users (per email or in bulk mail lots) by Internet Service Providers (ISP), and metered at the mail server level.
So what's all this mean? If you send emails, come 8/1 and you'll be paying for the privilege. The cost will be approximately $0.12 US per email with some bargains to be had to licensed bulk-mailers. For those of us with a contact form on our web site, since the metering will be on the mail server level, it'll be akin to offering a toll-free phone line since we will pay for the email. Unlike a toll-free phone service, though, we won't pay an additional fee. Form being abused by spam 'bots? Expect a huge "email bill" from your ISP. Better get it fixed.
When I first heard about this I was upset. Great, I thought, another bill. But after considering it further, I think it'll be for the good. After all, this action is supposed to be 100% effective in putting a halt to over 99% of the spam. What will be left will be solicitations from legitimate companies paying for the service. There's a downside to that, though: There will be no more ISP level support for filtering. Legitimate companies (still spammers?), since they're paying for bulk mail services, will be white-listed and will thus, unless filtered on your machine, get to your inbox anyway. If you get lots of emails about medications and such, though, your email problems will be going away.
Twelve cents per outbound email? Is it worth it? It wasn't going to be a free ride forever, right?
These posts may be related: