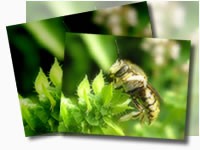 This is a technique I use to make less than great images look a little better. Bear in mind this isn't a good technique for print-quality images, nor is it terribly helpful for really large images where down-to-the-pixel perfection is required, but for web-use images under 800×600, this can be a real time saver — a down and dirty technique — with no heavy tools required, meaning most mid-range image editing software can handle this. Here's how it's done… In six, or so, easy steps. A poor man's technique.
Step 1: The Original
Well, I'll be, this isn't a step at all. I guess there are only five steps. Anyway, I got this image from My Flicker, but I downgraded it by reducing export quality and increasing sharpness and contrast for this tutorial. The image had characteristics that I felt made it was a good candidate for this. In case you're wondering, it is some sort of hover or syrphid fly, I think. Even though I am the bug guy, sadly, I haven't looked it up. It is an extremely cool bug, though. This specimen and several others spent their days last summer flirting with some basil flowers (shown), hovering all the while.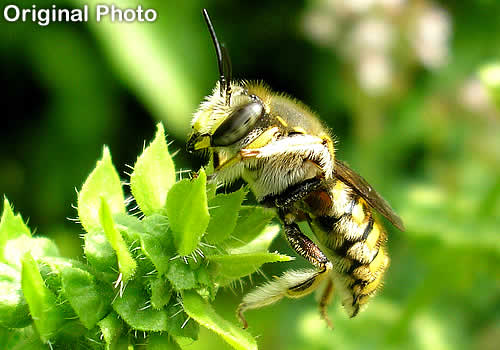 Step 2: Make an Overlay Copy
Or is that step 1? Hmm. Oh, well, let's continue. Okay, this is important: make a copy of the too-sharp, too-contrasty, noisy, and distorted image above and paste it over the original. To ensure it lines itself up properly, reduce it to about 50% transparent so both layers are visible. Once lined up, reduce the upper layer to 100% transparency and select the underlying layer.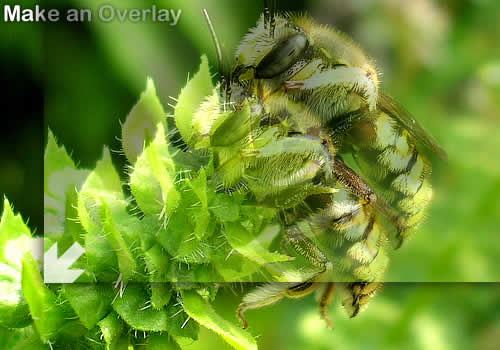 Step 3: Apply a Gaussian Blur
You should now be looking at the selected bottom layer, the lower image. Apply a Gaussian blur to it. Using Fireworks as I do, the default blur pixel radius is 4.1. This, or a greater number, up to 6 or so should be used, depending on the photo. Yes, it will be blurry, but we'll change all that. The reason for the blur is to blend those contrasty areas and cover up that noise. Think of it as apply a pancake make up — sort of like powdering your nose.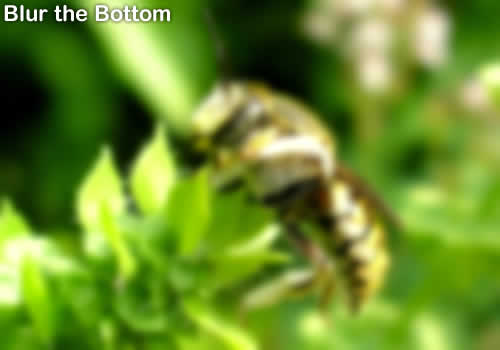 Step 4: Adjust Brightness of Bottom Layer
To save some image weight (file size), I darkened the bottom image. Doing this also replaces some of the photo's richness and depth that can be lost in this process. Some images, if already dark, will probably require an opposite treatment. Experiment.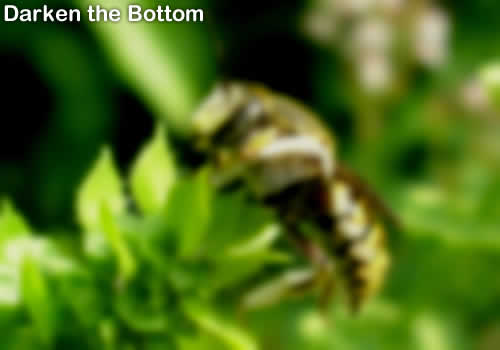 Step 5: Bring Back the Top Layer
Now the time has come to restore some of the sharpness over that layer of wrinkle cream. As transparency is reduced (opacity restored) the edges will start to appear. The range you should aim for is about 40% to 80%. Somewhere between the two settings will be perfect, a balance between the two layers. You want the edges to be clear, while the areas in between to remain soft enough to hide the imperfections. Yet you still want to retain depth, clarity, and richness.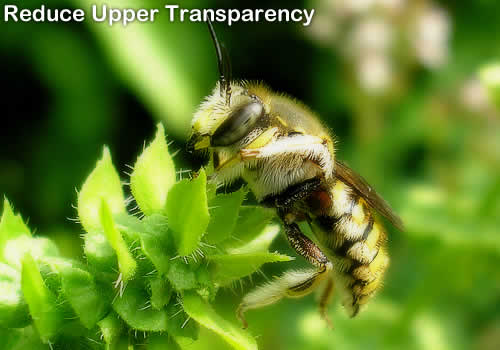 Step 6: Optional Adjustments
Maybe there are actually only four steps. The image above is effectively done. It is an improvement over the (example) "original" and of a smaller file size. But a little more tweaking, to experiment, is always fun, and possible since the settings can still be adjusted. Try adjusting brightness, that's what I did, or play with transparency some, more or less, to adjust the surreal quality. I did that, too. Apply further file size optimization. I ended up saving a lot over the image above.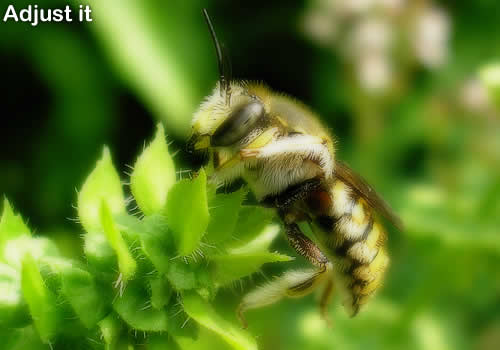 Why it's Effective
A layer of partial sharpness masking a heavily made up underlying base layer. Another nice side effect of this technique is a file size reduction, as mentioned. For instance, in actual numbers, the original image in this example is a whopping 30.86kb. The second to last image is 23.85kb, and the final image is only 19.40kb. That's a savings of 11.46kb from the original. That's a significant amount, at the expense of… well, a slight increase in image quality. What a good deal.
Some Final Thoughts
This isn't going to make bad images good, but as the title of this post says, it can make them look better. It's not an effective correction for all images, but it can work for some, especially those with a limited amount of noise, artifacting, positive contrast, or sharpness issues.
It can also be used to purposely create a dream-state or surrealistic scenes. Play around with it. I just redid my hosting site (v5) and applied this technique to just about all of the images, both background and embedded. I made a lot of composites for the site, using good quality images from iStock.com (great deals over there), but some where a bit sharp, and softening them even a little didn't do them justice. I started playing around with my previously posted dream scene technique, and I came up with this variant… Voila!
These posts may be related: