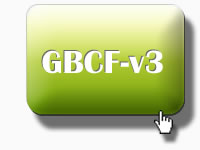 I'm happy to announce the availability of version three of my GBCF-v3 Secure and Accessible Contact Form. It offers a ton of improvements over version two in the areas of perfected error management, easy language adaptability, passive set-up validation assistance — so the script can be tested before putting it on your site — security, usability, powerful flexibility, and enhanced accessibility. On this last front two notable features include: the form's ability to automatically adapt to the user's preferences maintaining the semantics and accessibility and; the form's refined usage of labels and legends to make the experience of using the form a smart one for screen reader users.
In addition to all of the enhancements, I addressed all of the concerns surrounding version 2. I mean all of them. This form version really is quite a step up from the last one. I hope you'll be wow'd. Do check out the pages where a lot more info can be found. The demo site index is a special page I put up for the demo only, but the script validation page, form help page, and form test page are actually included with the download. They aren't meant to be kept on the server, but they offer a good resource for users installing it. The is one deep script, done right… I hope you agree.
Before I open the floor to comments and support questions not yet answered, I am requesting some help in the form of language translators to work on the language files that come with the form. You will be credited accordingly (note the language files already done). I'm also open to having people contribute some theme style sheets, (images are accommodated). Want to help?
Stats: Since its initial release on December 30th, 2007, GBCF-v3 has been downloaded 109559 times.
Attention: There is a new post for form support. Please use it to post your comments, questions or suggestions. Please, however, review the comments herein first to see if your question or concern has been addressed already. Thank you.
These posts may be related: