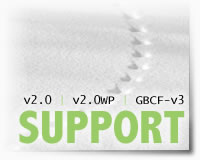 If you need support for my version 2.0, 2.0WP, or GBCF-v3 contact form scripts, this is the place to get it. The new place. I've used the same blog posts for contact form support comments and questions for such a long time, their pages have gotten long. Really long! I decided to start a new one and just close those. That said, those old posts have not stopped living their useful lives. Many of your questions may already be answered there, read them first.
Support Update: New contact form plugin version 2.1 (for WordPress v3.0+) is now available and better than ever thanks to Mike Jolley. Sorry to those inconvenienced by the wait for a revised edition. This will be worth the wait, though.
Please check out these old support posts first:
Before you post, here's some important info:
Please identify which script you're seeking support for. Include the build number as well. If WordPress-related, please be sure to include your WP version as well.
Comments to this post are only for support of the aforementioned form scripts. Not for other people's form scripts. If you need help with theirs, ask them.
I won't offer much help in the way of styling or customization support. This post is mostly for installation and configuration help, and for your comments and/or suggestions.
If you need to post code, please wrap your code in <code></code> tags, and be sure to convert less-than and greater-than symbols as follows: If you want < write &lt; and if you want > write &gt; — if you don't do this, your code won't post.
Okay, 'nuff said… what's on your mind?
NOTE: Nov. 2011: Please read update.
These posts may be related: