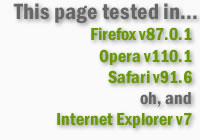 I've been reading the various facts and opinions (links at the end of the article) and the pros and cons about the plan proposed by Microsoft that will make "DOCTYPE Switch" obsolete beginning with the up-and-coming Internet Explorer 8 (IE8). This news has angered some standards-compliant web developers, while others are finally seeing light at the end of a seemingly endless tunnel — a tunnel filled with various IE versions of past and present partially blocking the way. Immediately I was against the idea, but I do see the good side of it, too, what with never having to deal with IE version fussing and constant updating again. And if other browser developers jump on board with this idea we will never have to update our sites again (yeah, sure, ha ha). Like a good sales pitch it has appeal. But maybe this is a surface sheen.
Can We Live with This?
I have one primary concern over the long-term viability of this plan:
Does this clever plan allow for the adoption of new user agent and web building technologies? How, for instance, are legacy rendering engines supposed to handle new elements and style selectors on new pages as they come to be? Will web developers have to make multiple pages, one with legacy elements and another for current technologies? If so, this defeats the whole purpose. No meta tag is going to address this, and, as such, this seems at best to be a temporary way to address the real issue of old sites in need of revamping. It seems to me that if we want to stay current, we will have to continue feeding page edits to the change monster.
Is this Really Needed?
If IE8 is going to embrace web standards, why is this even needed? I mean standards-compliant sites should be just fine without having to do a thing. This is being done so older sites don't break — and soon we'll all have older sites. I have updated some of my sites up to five times as new technologies have entered the scene and I learn how to do things better. The web is fast moving and it needs to keep moving. This plan allows for stagnation of the web and will bring the web as a whole no closer to web standards than it is now if I'm reading into this correctly. Had Microsoft bitten the bullet when they developed IE7 and made it fully compliant (I was disappointed they did not), there would have been a bunch of angry developers and site owners who would have been forced to make the leap to fix their stuff, but by now that would have blown over, the web wouldn't be broken as it is, and there would be a lot more standards-compliant sites out there.
Full Compliance is Necessary
The web and its technologies are fast moving. This movement needs to continue, but standards need to come first (not by patting someone on the head and them it'll be okay to remain as is and do nothing). Without web standards, no fix will be viable in the long term. To the best of my knowledge, there is no mature industry in the world that doesn't have some sort of standards. Without standards, in fact, an industry, any industry, will more than likely be unable to grow up to its fullest potential. This has been proven time and time again throughout history. Granted the web is quite new relatively speaking, so it's understandable that methodologies on many levels haven't yet coalesced into a single body moving in one direction. But the web isn't so new that non-compliance is excusable. And now, what with plans like Microsoft's on the table, I think the hole may be getting dug deeper because once a developer is ready to update a site, backwards compatibility will not be served and forward compatibility (for IE) will not exist.
Selfishness on My Part?
I may sound cold and uncaring about all those older sites out there that will break, and all the pains non-complaint developers will be faced with as they scramble to play catch-up. I'm not, though. I do feel bad for those folks. The changes won't affect me nearly so so it might sound like selfishness on my part, but it's not. I am in this position because I have been developing to web standards all along. I chose to work preemptively. It's not my fault those who will be hit the hardest have rested on their laurels all this time. But isn't it about time the gap is closed — instead of being propped open forever. Eventually the feces will hit the rotary oscillator (the shit will hit the fan). This plan seems like an infamous MS Patch more than anything else, and patches are never permanent.
Some Worthy Arguments
There are some good arguments for both sides of this. Here are some related posts and articles that will shed more light on this subject and offer diverse points of view. For me, I'm roughly 90% against and 10% for, but I still have to weigh all points of view before I am 100% either way.
These posts may be related: