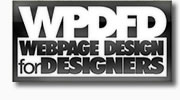 I was recently contacted by David Rodriguez and asked if I was interested in writing an article for the Web Page Design For Designers site. I was, so I wrote a two-part article titled "Twelve Things Most Sites Need" covering what I feel are some web site must-haves. The first part of the article has been published. Enjoy.
The first part covers:
A Proper Navigation Menu
A Meaningful, Well-Formed Title
A Method of Contact
A Site Map
Passive Accessibility
Standardized Markup
The second part will be published on March 3rd. I won't divulge the second six (no spoilers here), but you can subscribe to their feed if you want a post time heads-up. In the meantime, since reader interaction isn't available there, do feel free to post your comments and/or questions here.
These posts may be related: