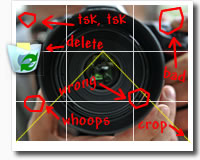 I've been at a little while now. I've got some calluses. I've been a member of iStockphoto since February of 2008, but I didn't start contributing until April. You do the math. During these months I've been hard at work basically re-learning the craft. Photography has been a hobby since I was a kid — I grew up with an SLR camera given to me by my dad — but this whole stock photo thing and using a digital SLR (DSLR) have been a new and exciting adventure. This is my progress report.
Going Digital
When I was a kid I shot mostly in black and white as that's what I was barely able to afford. Color was out of reach at the time. I worried a great deal about exposure, focus, and of course, composition. If the photo was underexposed, it could get grainy but rarely was it a problem.
That was then. In the digital present I worry about exposure, focus, and a host of other things like noise, artifacts, chromatic aberration, and more. Exposure is harder to nail with a digital camera due to the sensor and its averaging of various exposures in the scene. As a result, elements in the scene are sometimes over and/or underexposed. Often the cameras will err on the side of underexposure. At least that seems to be the case for Nikon, and it leads to some of the issues mentioned. I cannot comment on Cannon or any other quality brand. I use the Nikon D300 and have various lenses (listed on my iStock profile page).
Lately I have taken a step back and gone back to my roots so-to-speak. I started using my Nikon in Program Auto mode while learning it, then moved to using primarily Aperture Priority mode giving me better control. I then added exposure compensation to the mix, which is ever changing, and now I'm using my camera in Manual mode. I turned off autofocus on my lenses pretty much from the start as I've always preferred to focus my scenes manually so it started there I guess. I do like image stabilization, though.
I'm not at all down on digital if it's sounds that way. I like Manual mode, I have complete control. I am becoming one with my equipment as I should be. I may use the auto stuff again at some point. If I become a paparazzo someday, for instance, I'm not going to have time to adjust my exposures and focus manually. If I become a paparazzo.
Nope, I'm not down on digital at all. With digital I pay a whole hell of a lot less for my mistakes. And believe me, I make plenty. I discard far more photos than I keep. But, hey, it's digital so I can afford to play around. Digital photography delivers instant gratification. What's not to like?
The Journey
Stock photography isn't easy for me. I'm sure it is for some, but for me it's as slippery as an eel. I've always liked to get creative with my photos, to be artistic, and I still can, but now I must consider how a designer might want or need to use my photo. Isolated on white was once boring, now it's useful to designers sometimes. I have to retrain my brain. But only partially. I'm smart, I will catch my eel once and for all, but a side of me will continue to produce niche photos and some art. I won't settle for taking photos of objects and toothily grinning models all the time.
I do this now in preparation for later. I couldn't live with what I make now selling photos, but I hope it supplements my retirement later on. I will continue on my journey for the time being, giving it my time and dedication. And the latter will be needed. As I wrote, it isn't easy for me. It's even worse for many others — my acceptance rate at iStock is pretty good compared to some. I will put up with it because it is the price to be paid. And anything worthwhile has a price. Why should this be an exception?
Starting Over
The learning curve, while fun and interesting, has been steep. The jargon and all of the things that can go wrong in digital photography alone are daunting. Add to that my new learning experiences in post processing. And add to that the stringent criteria for getting photos approved on iStockphoto (or any microstock site). It's a lot to deal with at times. Taking a photo no longer happens as quickly as it once did as dozens of things must first be considered.
Writers, according to Stephen King, must learn to "kill their darlings," meaning that they must objectively revisit with their work and possibly rip it up. The same is true of photography. I'm partly used to this phenomenon. Some of my articles take a long time to produce. I write them, fall in love sometimes, then I have to put them aside. I then go back and reread them after a while, trying to be objective as possible. Sometimes, most times, the love fades and I start hacking the article into bits trying to get it right. I do the same with my photography, except the killing goes on in PhotoShop or I sometimes just reshoot.
In effect, while my photo experience is certainly valuable, and my understanding of re-re-re-assessing all my work and sometimes killing it off, it's like starting over. I am learning. There's no doubt that I'm finding this progression a heck of a lot more interesting than you'll find it, but I wanted to share. Becoming a photographer isn't easy — though it has some great perks that will meet my future needs far better then web development — and writing it down as I go helps me put some of the minor aggravations into perspective.
These posts may be related: