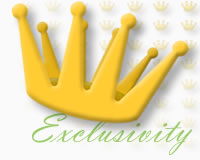 It took almost a year, but I got the required number of downloads (250), and exceeded the minimum 50% acceptance rate — I am at about 74% — to become an "Exclusive Photographer" at iStockphoto.com — w00t! I can't say it was easy all the time. There was a lot of learning going on, and I have to admit it was a bit frustrating at times, but the ride was still enjoyable. 250 downloads isn't a lot, and I didn't have a rich year, not monetarily speaking, but it's a beginning. The important thing is this a fit for me and I'm enjoying the journey. I feel very positive about the destination.
Check out my work over there, here's a link to my profile page, another to my portfolio. My portfolio is brimming in a short time. I have been prolific taking advantage of upload limits. If you are a designer and not yet a member, don't wait for it, join now. It's free.
On one hand I regret not joining iStockphoto when it began in 2002. If I had I'd probably be raking in the bucks and be a diamond or black diamond contributor by now — I'm just a bronze. On the other hand I'm glad I didn't, instead taking the path I did into web development. After all, I learned an awful lot, if for nothing else than to apply it for my web hosting company's customers and my own needs. I have six sites and I am thoroughly happy with all of them and management isn't at all difficult or scary. Man, that's a really good thing. And as the cherry on top, so to speak, if I hadn't gone the route I did I wouldn't have met you guys: my unmet friends in unseen places.
My next stop over there is to earn my silver film canister icon denoting 2500 downloads. Wish me luck. Better yet, join up and buy a photo or three for use on your web site or blog.
Last but certainly not least, I'd like to express my sincere thanks to all my friends in the iStock community for their help, support, and where needed, patience along the way.
These posts may be related: