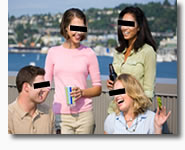 Gas prices are high. Driving my Jeep creates pollution. That contributes to global warming. Driving is also known to be dangerous. I avoided all these negatives this year by doing all of my holiday shopping online. It's fast, convenient, saves time, and hopefully with the precautions I take and knowledge I posses, safe. I didn't have to spend hours driving all over creation finding the items I wanted.
Will the Internet save our planet? I started to wonder. It could help, that much seems clear. Transportation, after all, is a large contributor to the aforementioned negatives. I considered this and more. I began to consider other ways the online era affects us. How it's changed our lives. I thought of friendships old and new and of today's unmet friends.
Prior to life on the web, my friends where only those who had passed my scrutiny face-to-face, eye-to-eye, mano e mano as one might say. I never had a pen-pal. Not the international exchange kind; and certainly not the prison romance type either. None at all. I was deprived.
Then online changed that. I have developed relationships with people I haven't even met! I have lived in Italy and in Japan, and I had a number of good friends in those countries, especially in Italy because of my age at the time: I was in my early twenties. Nowadays my reach is even further, and without leaving my chair. I have friends in myriad countries I've yet to even set foot in!
This, if one stands back to look at it and thinks old school, is odd. Unmet friends in unseen places?! Who woulda' thunk it? I certainly wouldn't have. But you know what? Like online shopping, I view this as a good thing. Not in the sense that I prefer not to have an "IRL" encounter, but rather in the sense of the amazing possibility of it all. Just interconnected wires and waves through space.
I once tried my hand at online romance with a younger woman who was safely on the other side of the country. After a few weeks, though, things started getting dangerously serious and I was feeling incredibly guilty. I confessed to my wife, whom I love, and ended my wired fling. We hadn't really done anything of course, but the point is, these friendships are pretty real.
I have one friend, a man, whom I consider very close. Like a brother. We just seem to hit it off. I won't start mentioning names as I'm afraid I'd forget to mention someone important to me. But you know who you are, all of you. The ones I call "guys," even though some are girls. And the ones I compare notes with. The ones I learn from, and those who learn from me.
We probably won't meet. I've only met one so far, that was Georg from Norway (I will mention him). I don't really do the whole conference/convention thing so we won't meet at Some Thing '09, but that's okay. As I mentioned before, these friendships are still quite real.
To those here and abroad I call friends, the met and unmet alike, and the ones in places seen and unseen, I raise my glass in a toast so to speak. If I'm unable to firmly shake your hand or give you a hearty embrace in person, I will toast you with my blog and do so with gusto.
Happy New Year, my friends. I hope for us all that 2009 brings good things.
These posts may be related: