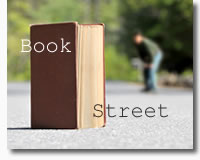 I recently had a conversation with my son about the subject of this post. We wondered if we had street smarts (wisdom), book smarts (intelligence), both, or none of the above. And we also explored our preferences to these qualities in those we associate with. It turned out to be an interesting subject for us. My son says that I have both street smarts and book smarts. I won't argue with him. I've had a wild past and street smarts have kept me out of trouble on many occasions. But I do grasp things academically and have always had a solid understanding of the sciences and other subjects. My varied past had a hand in that, too. I also read a lot and that helps. My son is street smart and growing, and still schooling.
Regarding my preference to these qualities in others, well, I tend to get along with most people, though I have some difficulty with uneducated or ignorant people unless they compensate with a healthy level of street smarts or adaptability. It's not a dislike, per se, it's just a lack of commonality I think. Looking at my life, most of the people I hang with are predominantly street smart, more so than book smart. Most are rough characters who like to party hard and have a good time. I once traversed Canada by pick-up truck, camping along the way, and I ended up making friends with an entire biker gang with whom I shared the road. I tend to gravitate towards good people who are wise in ways some can't imagine. Most of my friends are not college educated and most do not work in professional careers.
Can you relate to this subject? Where do you fall? And socially, who do you gravitate to?
These posts may be related: