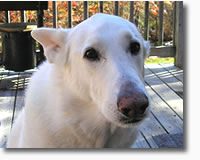 On Sunday, March 8th, I asked my white German shepherd dog, Salty, if he wanted to go for a walk. He seemed depressed so I thought it would cheer him up. He didn't really seem up to it, but would follow me to the ends of the earth so away we went. He didn't run ahead as he usually does, he barely kept pace with me, and he actually stopped once as if he was tired. I got very concerned so we turned around and went home. I called the veterinarian.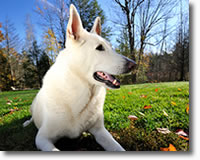 On Monday the 9th I brought him to the vet for a checkup. The doctor was very concerned because his symptoms were indicative of a splenetic or splenic tumor. I left Salty there for x-rays, an ultrasound, and if deemed necessary, an exploratory surgery to further assess the seriousness of the situation. The surgery was needed as the x-rays and ultrasound were showing some serious and foreboding results, and his red blood cell count was about half of what it should have been.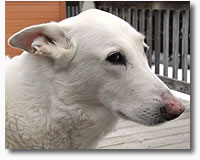 The tests showed two rather large tumors on the spleen. The surgery showed that these were malignant because the disease had metastasized to the liver and other organs. This meant it was terminal. I was presented with two choices. I could bring Salty home, in pain, with no chance of permanent recovery, only to suffer more as the tumors spread, or I could opt to euthanize him.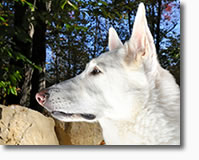 I couldn't bear the thought of putting my beloved dog down, but even more so I couldn't bear the thought of watching him suffer for a month, maybe two, while he slowly died. Already he seemed depressed so I made the choice to put him down, mercifully. I gathered my family and we all went to the vet. Salty had recovered from the surgery enough that we could say good bye. After a few minutes of extremely sad sentiments, the vet injected my dog with a chemical that would end his life.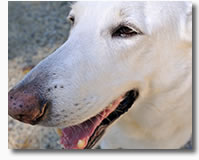 I wailed uncontrollably. Shit, I won't try to kid you, I'm crying right now as I write this. My love for this animal was and is deep and unconditional. Just like his love for me was. I brought him home, removed two feet of snow to expose earth by his favorite squirrel tree, dug a two-foot grave in the cold but not frozen earth, and I put Salty's body to rest. I covered him and put rocks over the soil. I planted a small marker at the head of his grave. My family and I stood around his resting place, all in tears, and again said good-bye. We will all cherish his memory forever.
For the past couple of days I have looked in all of Salty's places around the house, always close to me, but he's no longer in those places. I'm a wreak. My heart is broken. Slowly the tears have stopped flowing so readily. And I even laughed at something today… though I don't remember what it was. We will miss him so much. I am having a hard time letting go. That's why I'm writing this: To memorialize him. I feel as if I cannot do enough to commemorate his existence on earth and his place in my life.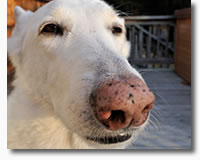 He made me his "master," and it was an honor for me to be that. But our relationship ran deeper than that. Second only to my children, Salty was my best friend in the world. He loved me in ways only a dog can love a person. If you have had a dog in your life you will know what I mean. If you haven't had the privilege then you're missing out on one of the most powerful things life has to offer.
I miss you, Salty. Rest in peace good boy. I hope your spirit is with me, my friend. And maybe someday I will be fortunate enough to be with you again. We can finish that walk. I love you with all my heart and soul, Salty.
These posts may be related: